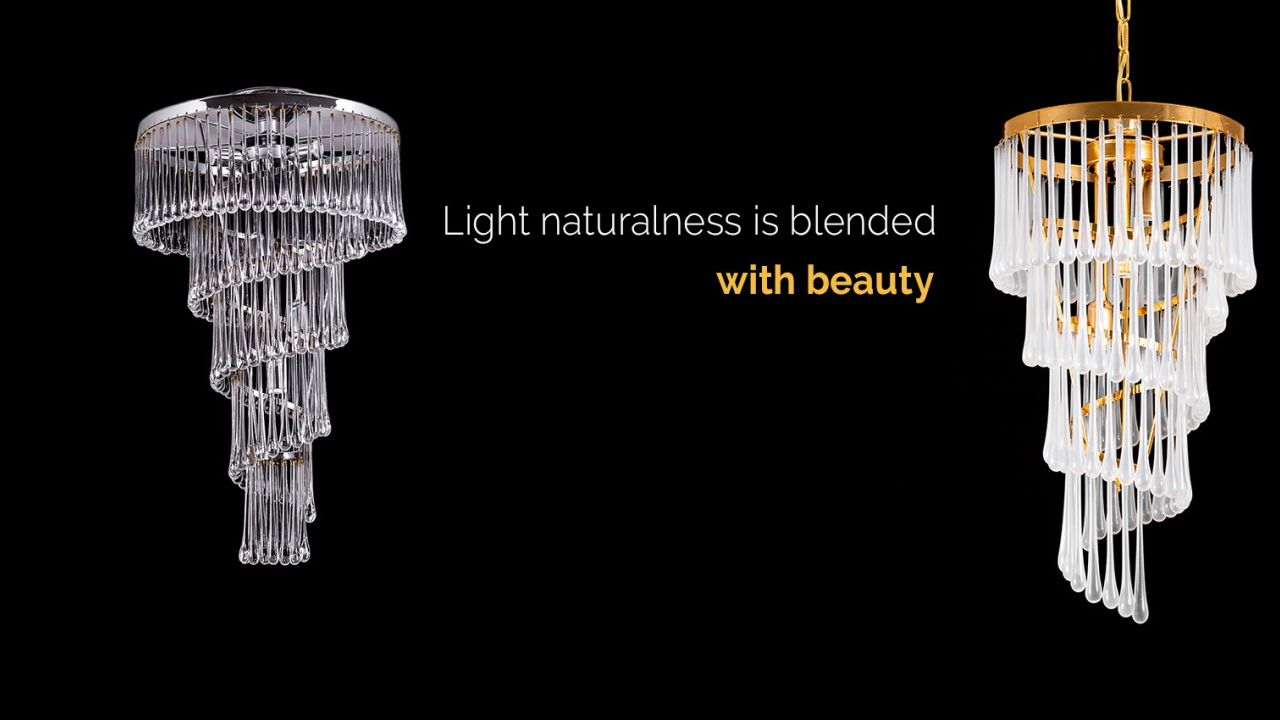 Murano glass chandelier
Cristalleria Murano has been working on the market for over 30 years in the field of chandeliers, sconces, wall lamps, table lamps etc. Thanks to the skill of Murano master craftsmen we are able to offer our customers a wide range of extremely valid products both qualitatively and quantitatively. Our collections ranging from classic to modern are distributed via the web all over the world: Italy, Europe, USA etc.
All our chandeliers are totally handmade according to the ancient glass tradition of Murano and  they have the certificate of authenticity testifying their origin and realization according to Murano techniques. The products are packaged on vacuum blisters, in order to ensure more safety and practicality and each package is equipped with at least one or two spare parts. Let's take a look at some of the most original and representative chandeliers of our offer in the following paragraphs.
Hanging chandelier "Gocce di Rugiada"
With its classic but elegant appearance, the hanging chandelier "Gocce di Rugiada" is characterized by its brightness and a refined touch of design. A perfect mix of art and beauty created by the expert hands of the Murano masters who embellish every space. The lamp comes in two glass variants: a transparent crystal or an opaque crystal. Both variants are perfect for a rustic or modern style.
Chandelier "Vortice Sospeso"
Our catalog is constantly updated and among the latest news is the chandelier "Vortice Sospeso", a splendid model made of blown Murano glass. Eccentric and charming, this model ensures elegance and refinement in every room, flooding the spaces with vivid and shining light. The drops descend gently from above creating very suggestive plays of light.
Chandelier "Orazio"
The chandelier "Orazio" has a pompous and opulent appearance that gives royalty to every room. The model is made of original Murano glass decorated in 24k gold and it is featured by a central column embellished with flowers. The chandelier can be customized choosing the number of lights and colors and eventually making sconces with one and two lights.
Chandelier "Glavet Mignon"
The chandelier "Glavet Mignon" is characterized by a modern and linear style and it is made of Murano glass. The dimensions are extremely small so the chandelier is perfectly suited to small rooms, bathrooms or entrances with that touch of elegance and refinement that never hurts.
Chandelier "Vecellio"
Royal and sumptuous, the chandelier "Vecellio" is handmade in classic Murano glass, crystal and cast in 24k gold. The model can also be customized based on the preferences of customers who have the possibility to choose the number of lights and colors.
Chandelier "Morago"
The chandelier "Morago" is extremely versatile and multifunctional because it cleverly mixes a modern and classic style adapting to every furnishing. The chandelier, made of Murano glass, is available in different colors and each customer can customize it choosing the number of lights according to their needs. On request it is also possible to make the multicolor version.
Generally the production of every chandelier is about 20-25 days of work.